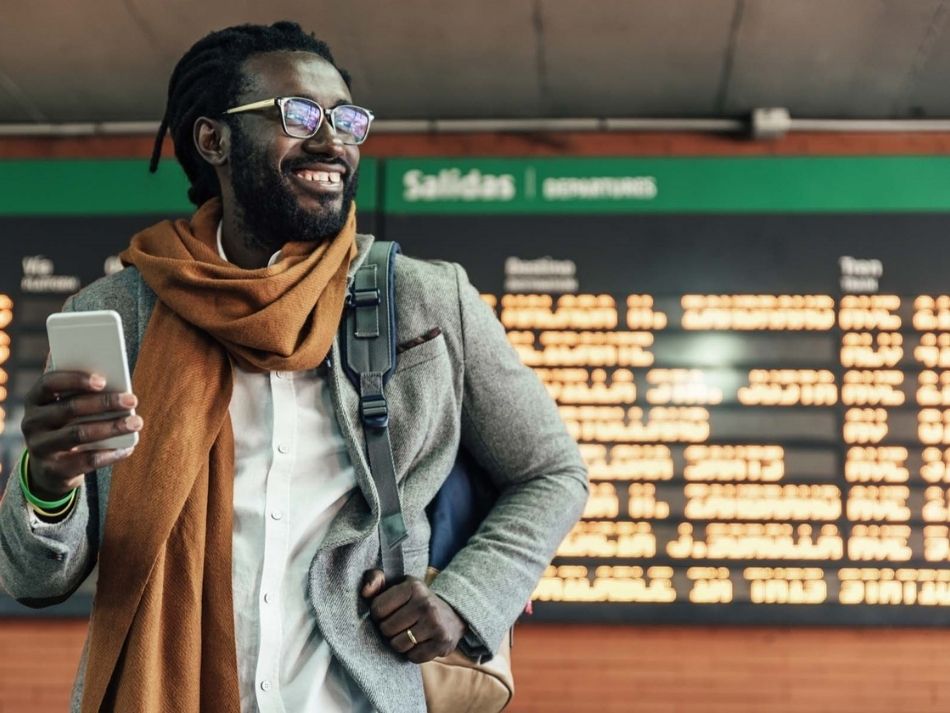 If you're a fresh arrival in Spain, then getting a local mobile phone number is an important step in setting up your new life here. After all, this will help you stay in touch with your loved ones back home, as well as new friends and colleagues, and much more.
Thankfully, Spain has a well-developed mobile network and plenty of operators to choose from, so you won't be left disconnected. However, as an expat, knowing how to get a SIM card in Spain, or which mobile operator to choose, can be a challenge. To help you out, this guide gives you some interesting information to choose from. We also recommend reading this blog.
How to use your phone in Spain?
You should always check your options before you travel to avoid any unforeseen connection issues when you arrive in Spain.
Thanks to an EU-wide agreement on international roaming fees, arrivals from EU countries can enjoy free roaming when spending time in Spain. This is also the case for arrivals from the UK, although this could be subject to change following the UK's exit from the European Union. If you're unsure, then check with your home operator before traveling to avoid being left with any unwanted bills.
If you're moving to Spain – or planning to stay a little longer – then you'll probably want to buy a Spanish SIM card or sign up for a local mobile contract. Getting a SIM card will probably be the cheapest option in terms of up-front costs, you just need to provide proof of identity to get one. In this case, remember that Tiekom can offer you a wide variety of national and international mobile plans with different GB options and international calls included, see more information here.
Roaming in the EU
Essentially, those who use an EU SIM card in their phone can travel within the EU and continue to use their phone as they normally would at home. SMS, phone calls and internet will all operate within the parameters of the national bundle that was originally activated in your phone. Your calling minutes and SMS rates will not increase or be subject to extra fees due to the user being outside on the SIMs native country.
When it comes to internet data usage the rules get a little more complicated. Each mobile service provider may "limit" or "safeguard" the available data usage when their SIMs are being used around the EU. This means that even though you might have activated an unlimited plan or a plan with a lot of GBs, you may only have access to a percentage of that mobile data when traveling. As each mobile provider is allowed to make their own rules (to a certain extent), it's important that you check with yours before you start your travel and use your EU Roaming.
Effectively, "Roam like at Home" is meant to help travelers enjoy their mobile phones while traveling for shorter periods, but it is not meant to be a long term solution. If you are moving within the EU for a long period of time – specifically to Spain – then we recommend you take a look at our mobile and data SIM offers with roaming in case you want to travel to other countries.
Mobile roaming charges in Spain / Limits on charges

Fair use policy – Is my data use limited?
Mobile operators may apply a "fair use policy" to ensure that all roaming customers have access to and benefit from the "roam like at home" rules (i.e. roaming services at domestic prices) when travelling in the EU. This means that your mobile operator may apply fair, reasonable and proportionate control mechanisms to avoid customers abusing the rules.
When you're roaming, there are no volume restrictions on your voice calls and text messages (SMS). Any calls or texts not included in your contract will be charged at the same rate you'd pay in your home country. However, there are rules and limits on how much data you can have charged at your domestic price. These limits depend on the type of contract you have.
The limit is based on the price of your domestic mobile contract. Your operator must tell you in advance about this limit and has to let you know when you reach it. You can continue data roaming once you've reached your limit, but your operator will charge you extra.
Get a better service on your phone in Spain
Spanish mobile subscriptions typically offer cheaper rates for calls, texts, and data usage than prepaid SIMs, making them an attractive alternative for many new arrivals. Contracts include an allowance of call minutes, texts, and mobile data. They might also include other allowances, and the amount you pay will depend on which tariff you end up choosing. Be aware that you might be able to get discounts should you combine your mobile contract with your home phone, internet, and TV connection. For more information on this about the different services and plans that we can offer you at Tiekom visit our website.
Tiekom has several international plans that are completely adapted to your needs
Discover our plans and choose the one that best suits you. No hidden surprises and no unexpected bills.
The best mix of minutes and data to call abroad included UK without hidden costs and with unlimited calls to Spain. Switch to one-of-a-kind plans for FREE. Keep your existing number or get a new one. We have created these plans because we don't believe in boarders.
All of our international plans include 600 min. On international calls
Enjoy the best offer of GB, unlimited national calls to landlines and mobiles in Spain, 600 minutes to international landlines and mobiles.
Without commitment to remain or set up costs.
With the best prices and the best coverage network in Spain
Do not worry about where you are in Spain, we have national coverage guaranteeing the best call quality and data reception.
You can use your Tiekom line abroad
All the plans include roaming in zone1 (EU and EE.UU) so you can stay connected when traveling outside of Spain.
You can change to another plan
we are flexible, and we understand that your needs change over time. With Tiekom you can always change plans.
Finally, also mention that the registration process is easy, clear, fast, and simple.
Visit our website. where you can find all the information about our company and our services or contact us by email: sales@tiekom.com In all cases we will be happy to help you!